Autodesk is retiring plans based on serial numbers and launching new named user plans. No more concurrent usage with network licenses (Autodesk Network License Manager / FLEXlm / FlexNet) allowing multiple users share a license of say AutoCAD, Revit or Inventor.
How will you prepare for the transition to named user plans? At your first renewal date after May 7, 2020 you need to be prepared. Subscriptions with multi-user access and maintenance plans will retire on May 7, 2021 and cannot be renewed after this date. As part of retiring maintenance, the last version of the Design & Creation Suites will be released in April 2020 for customers to download, and the last date to renew Suites will be April 16, 2020.
UPDATE 2020-03-04 by Autodesk: We will extend the ability to purchase new multi-user subscription plans to August 7, 2020 and move their retirement to August 7, 2021. While we communicated that we would begin transitioning customers to named user starting May 7, 2020, we do not want to introduce a change at a time when business-as-usual is hard enough.
Will you guess or ask users how much they use Autodesk products?
Or will you use JTB FlexReport and be better prepared with actual numbers based on usage history?
Usage per Feature per Day.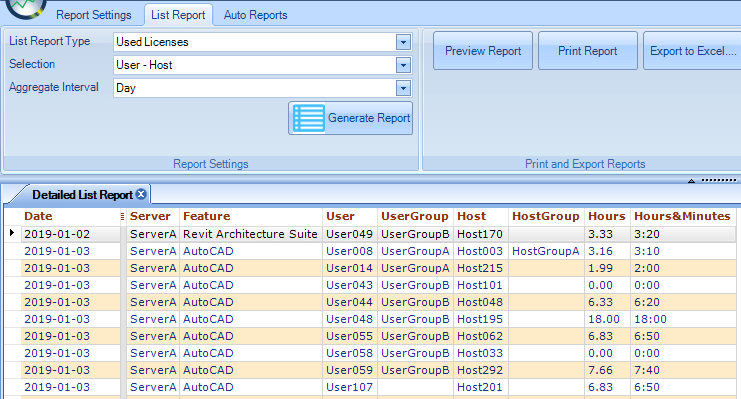 More details on the terms and conditions page. There is an Autodesk forum to discuss and ask about these changes.
Discuss on Facebook group CAD Managers Unite! if you like.
Donnie Gladfelter has made an extensive post on his blog. "this hypothetical customer would need to invest $24,550/year to maintain the level of access they have today for a cost of $5,925/year. That's an increase of nearly 315%!"
Time to prepare so you know how to proceed when it is time for renewal. Considering options for users using AutoCAD too little to justify a full license. Maybe AutoCAD LT, a free DWG viewer, BricsCAD or similar.
Chart report on how many hours users have been using a feature.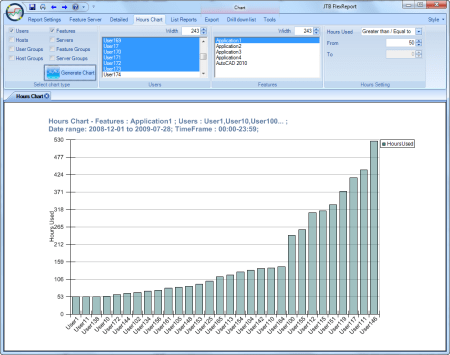 Both now and in the future you might find use of our JTB Process Monitor that works with non-network licenses like the Named User Plans too. You don't want to keep paying for expenses licenses that hardly are used.
Feel free to contact us to discuss how JTB FlexReport and JTB Process Monitor can help you. Free trial available.