JTB Sheet Set Creator 3.1.0 is released and lately we added support for adding sheet and custom properties to existing Sheet Sets with a merging functionality. It is also a command line interface available.
JTB Sheet Set Creator is an app for AutoCAD that creates new Sheet Sets and Sheets with all properties based on an Excel template.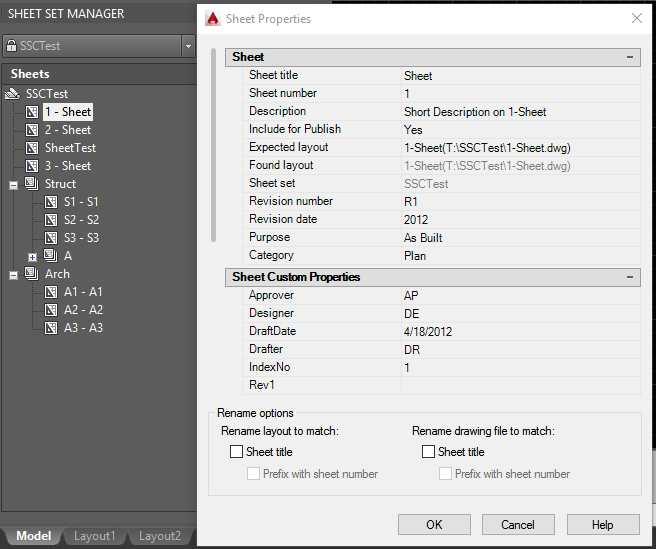 Don't know what the Sheet Set Manager is? The Sheet Set Manager in AutoCAD is a great tool for organizing and managing large sets of drawings, particularly in the architecture, engineering, and construction (AEC) industry. It allows users to create a logical and structured organization of their drawings, making it easier to find and access specific drawings when needed.
One of the key benefits of the Sheet Set Manager is its ability to create a sheet index, which serves as a table of contents for the entire set of drawings. This index can be customized to include information such as the drawing title, sheet number, and revision status, making it easy to quickly identify and access the desired drawing.
In addition to the sheet index, the Sheet Set Manager also allows users to create drawing lists, which are essentially sub-sets of drawings that are organized based on specific criteria, such as discipline or phase. This can be particularly useful for project managers who need to quickly access a specific group of drawings for a particular task or for team members who need to focus on a specific aspect of the project.
Overall, the Sheet Set Manager is a valuable tool for anyone working with large sets of drawings in AutoCAD, as it helps to streamline the organization and management of these drawings, saving time and reducing the risk of errors.
Download the upgrade or try it. JTB Sheet Set Creator
If you are using the Sheet Set Manager you can make batch edits of properties with JTB SSMPropEditor or make merge, purge and convert with JTB DST Tool or publish with JTB Batch Publish.