JTB SmartBatch 5.0 is released.
New licensing system with support for network licenses
Refreshed UI
Fixed problem to browse for folder on Settings>SaveAs
Fixed problem to Check for Update
Improved functionality to close dialog boxes
.NET Framework 4.6.1 or later needed
SmartPurger renamed to JTB SmartBatch to better reflect that it is more of a Batch app than a Purge app
Download the update either as a customer or if you want a trial. Purchase a new license or upgrade here if previous purchase was before 2018.
JTB SmartBatch (aka SmartPurger) is a batch and script utility for processing multiple DWG drawings with full control with AutoCAD, BricsCAD or GstarCAD.
JTB SmartBatch closes dialog boxes that might otherwise stop batch processing like for example dialog box showing missing fonts. Execute LSP or SCR files on multiple drawings. JTB SmartBatch handles crashes so the AutoCAD batch processing continues to the end and leaves bad drawings to be corrected manually. Many purge and cleanup settings available. Useful before backups and distribution of drawings. The file's modified time stamp can be restored.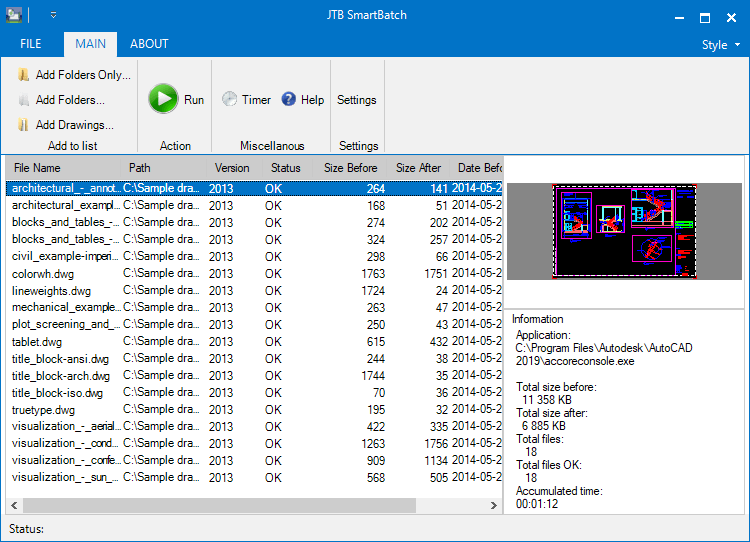 The free trial without license file is fully functional except that you can only batch process 10 drawings per session to give you the chance to confirm that the program works as expected. When you purchase you can use JTB SmartBatch with no limitations.